Course overview
These days the popularity of cloud infrastructure is on the rise. Industries are using cloud facilities to store the huge form of data. Similarly, the cloud infrastructure is also susceptible to network attacks. And to prevent and safeguard it Palo alto firewall is one of the most widely adopted security solutions across the world. That is why the Palo Alto training course is getting popular lately. This one particular course will open a door for thousands of opportunities. Likewise, it will help you to choose your dream career path.
The Palo Alto certification course will help you understand the basics of the Palo Alto firewall. Moreover, it will also enable you to configure, deploy and run the software, successfully whenever required. In addition, it will also help you to shape the network traffic by creating objects and applying them to the security policies.
At UniNets we provide the next-gen network security training. And the Palo Alto firewall is one the best of course among all.
Eligibility
 Graduation

 Basic understanding of Networking

Fundamental knowledge of Network Security

Attention to detail

Basic communication skills

An analytical mind

A keen observer

Excellent management skills

Team leading skills

 Problem-solving skills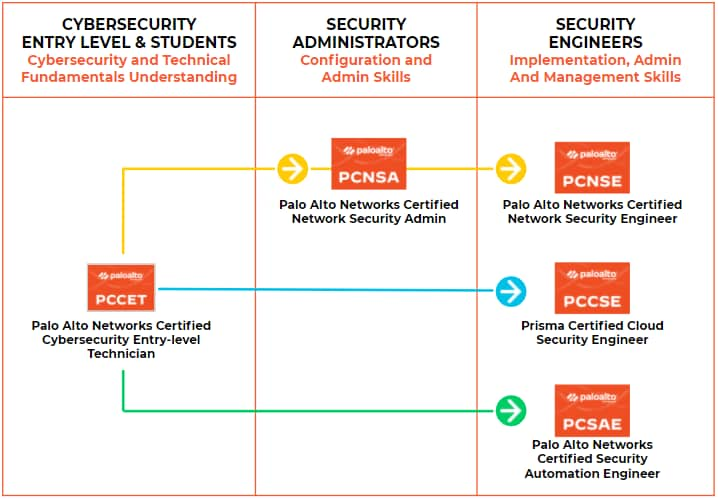 Course Prerequisites
To apply for this Palo Alto certification course you need to have basic knowledge of networking & network security. So, the following are recommended:
Knowledge of Windows servers

Fundamentals of computer and network

Knowledge of internet 
Why you should learn?
This next-gen firewall app will help you to get some of the most prestigious jobs in prestigious domains. These include security consultant, network engineer, etc.
Firstly the Palo Alto next-generation firewall training course will help you to configure, analyze, run and implement Palo Alto software. This is to provide advanced network security.

Secondly, with this advanced knowledge of firewalls, you are able to distinguish yourself from other network professionals. Likewise, you can offer the most advanced ways of cyber protection to your client.

Thirdly, the next-gen Palo Alto firewall is one of the most demanded certifications. Therefore by including it in your resume you will be able to get a reputed job offer from multinational giants.

Fourthly, the certification course is accepted and valued worldwide. So those who want to pursue their career abroad can readily apply for it. Because a lot of IT companies in the US & UK are looking for network professionals, having expertise in advanced firewall management can pay off well. 

Lastly, the salary package for IT professionals is generally on the higher side. And with the addition of this particular course, you will be able to get a better offer.
Sales Number : +91 9582 90 7788
Support Number : +91-9654016484
Sales Email : sales@itmonteur.net
Support Email : support@itmonteur.net